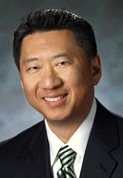 Kwang Chul "KC" Whang is the Founder and Principal Broker of The W Group Commercial Real Estate (WGC), established in 1991. Prior to WGC, from 1986 to 1990, Mr. Whang worked as an independent consultant specializing in providing business management and consulting services to retail businesses around Washington DC.

Mr. Whang has brokered and facilitated numerous complex multi-million dollar projects, representing landlords and tenants, buyers and sellers from all backgrounds and nationalities and industries.

For almost three decades, Mr. Whang's success as a business and real estate transaction facilitator has earned him a distinguished reputation as a "deal-maker", in an increasingly complex global business world where sensitivity and knowledge of various cultures and business practices are a must. Mr. Whang, lived and traveled internationally in his early years. He is a unique, multi-cultural and multi-lingual (English, Korean, Spanish, Japanese, and Mandarin) professional with a unique insight into global business and regional real estate.

Mr. Whang also a seasoned public servant. He has served on the board of Howard County Economic Development Authority for 8 years, serving as the Vice Chair of Howard County's Committee for Economic and Business Diversity. Mr. Whang currently sits on the board of The Horizon Foundation, Maryland's top health advocacy group, and has served on the board of Boltcutters Ministries International, Inc. an international Christian community development consultancy. Mr. Whang has also served on the Board of Elders of Bridgeway Community Church, Columbia, MD, a nationally acclaimed multi-cultural church.

Mr. Whang earned his MBA at The Crummer Graduate School of Business Administration, in Orlando, FL, and a BA from Middlebury College, in Middlebury, VT. Mr. Whang is a licensed real estate broker in the State of Maryland, Commonwealth of Virginia, and the District of Columbia.

Contact: Cell 240-460-3488 Email kcwhang@wgroupcre.com